LIGHT FOR THE WORLD GIVES THEM A VIEW ON A BETTER FUTURE
More than 4,5 million people in sub-Saharan Africa are affected by a form of avoidable blindness.
Only ten percent of children with disabilities go to school.
Light for the World has been fighting against this injustice for more than 25 years. Together we give them a future of hope.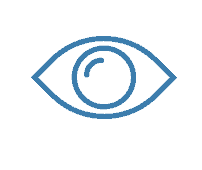 We make eye care accessible to everyone. Together with our experts and local partners, we support eye clinics, develop quality infrastructures and organise training for local staff.
Our education programme focuses on inclusive education: visually impaired pupils attend classes together with their seeing peers. We promote their integration and address the stigma of their disability.
700
children go to school
LIGHT FOR THE WORLD MAKES SURE THAT THE MONEY GOES WHERE IT IS NEEDED
85% to PROJECT IMPLEMENTATION
To programmes in DR Congo, Rwanda and Tanzania and awareness actions in Belgium
11% to FUNDRAISING
Expenses related to fundraising
4% to OPERATIONAL COSTS
Kept to an absolute minimum