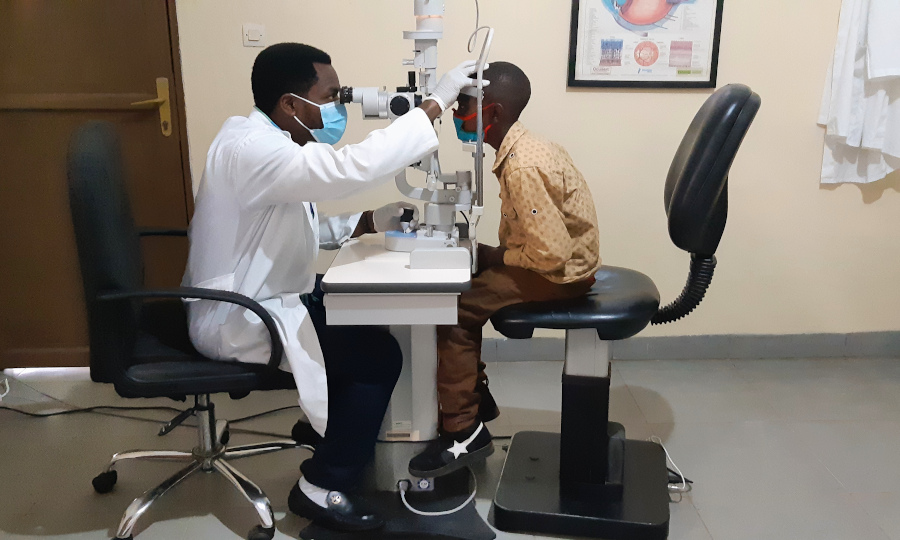 09 Oct

"Give people a better life"
Rwandan doctor Livin Uwemeye is studying ophthalmology at the Tanzanian University KCMUCo (Kilimanjaro Christian Medical University College) with a scholarship funded by Light for the World.
Once he gets his diploma, he will join the team at the Kabgayi Eye Unit in Rwanda. He is 31 years old and received his doctorate from the University of Rwanda in 2015.
"His story has always stayed with me"
"Then I chose ophthalmology because I was inspired by the story of a former classmate. He was visually impaired and reading was very difficult for him, which further complicated his studies. After secondary education he underwent surgery at the Kabgayi Eye Unit and his vision improved a lot. His story has always stayed with me. Today, my classmate studies to become an anesthetist.
Doctor Livin wants to specialize in pediatric ophthalmology to treat children with eye diseases. "Thanks to ophthalmology I can give people a better life and that is the most important aspect of my profession."
Getting started at the Kabgayi Eye Unit
The young doctor will graduate in October 2020 and start working at Kabgayi Eye Unit to relieve the workload of Doctor Théophile Tuyisabe's team.
Do you want to support us and give people a better life too? Make a donation today!