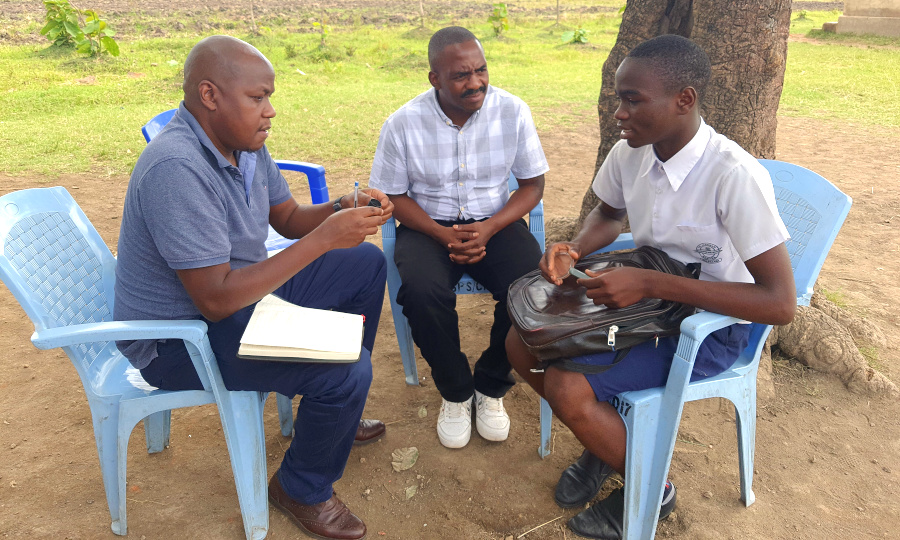 28 May

A brighter future for Tanzanian children

"What I love about eye care is that it's a sector where you get results quickly. When a child can't see, we provide the necessary help to offer that child a brighter future. One day they are blind due to an eye disease, the next day after surgery their sight is restored. That is what makes it so fascinating to be back in eye care." Meet Joseph Banzi, the brand-new and ever dedicated national director of Light for the World Tanzania.
"Today we are working closely with the government."
Over 20 years ago, Joseph graduated from the University of Dar es Salaam as a Bachelor of Arts in Education. A beneficial start for him. "Throughout my career, I've learned to work closely with government agencies. To get things done, it's important to exert influence at the sector level."
Light for the World started in 2017 with the expansion of an eye care unit at the Kilimanjaro Christian Medical Centre (KCMC). At the time we were not yet officially recognized by the Tanzanian government. "It happened all too often that local employees were asked by government agencies of all kinds why they were collaborating with Light for the World. This often hindered them in their work. After several introductory talks with the relevant ministries (Ministry of Health, Ministry of Education and the Presidential Office), the National Government realized that together we could achieve great things. As a result, since 2020 Light for the World has been officially recognized as an NGO in Tanzania and all local staff can fully focus on essential matters: providing quality eye care and education. Today we are working closely with the national government. The next step is to conduct those same introductory interviews at the regional and district level."
"If you train a boy, you train the people.
If you train a woman, you train the nation."
When asked how he sees continued cooperation with government agencies evolving under brand new President Samia Suluhu Hassan, Joseph is nostalgic. "We are going to miss President Magufuli. He meant a lot to Tanzania. In five years, he succeeded in setting up many strategic projects. Current President Samia Suluhu Hassan worked very closely with President Magufuli and she knows how to build on his legacy. We, the Tanzanian people, look to the future with great hope. You know, we have a saying: 'If you train a boy, you train the people. If you train a woman, you train the nation.' That's quite a responsibility!", Joseph concludes.
"We don't leave girls behind in our inclusive education programs"
Joseph started his professional career at the Kilimanjaro Centre for Community Ophthalmology, then the only eye care center in eastern Tanzania. "Eye care was not at all established among the population at that time. People didn't know exactly what it was about and were afraid to go for a consultation, let alone surgery. I tried to break down these fear barriers with the introduction of the Outreach Program. The so-called mobile clinics brought eye care to the people. A medical team did consultations, distributed eye drops or ointment and glasses. For surgery, they could come along, after much persuasion by the medical staff, to the KCMC hospital."
The similarity to the Itinerant Teachers Program is striking. Here, some twenty specialized teachers go out to the most remote corners of the regions of Morogoro and Dodoma to screen children with eye problems and refer them to district, regional or specialized hospitals. In 2020, they reached 6,403 children.
"In addition, they also ensure that children with incurable visual impairment can go to school through the inclusive education program. In general, blind and very visually impaired people just stay at home. However, we don't leave anyone behind! Especially not girls. In Tanzania and many other African countries, the enrollment of girls in primary education is very low. Our Itinerant Teachers Program focuses on enrolling at least half of the girls. We establish very good school results among them. In 2020, 69 percent of boys passed the national exams. Among the girls, 76 percent. This clearly shows that we are having a significant impact thanks to our partnership with the Tanzanian government."
Strengthening regional hospitals
"In 2021, our ambition remains to work even more closely with ministries at the national, regional and district levels. The goal is to bring eye care as close as possible to the population. This is only possible through decentralization. To achieve this, we are focusing, among other things, on strengthening the capacity of the medical staff of regional hospitals.
Today, there are many children from the Morogoro region who have to travel 185 kilometers to get eye care at the CCBRT hospital in Dar es Salaam. This has to change. We want to further develop the eye unit at the regional hospital in Morogoro. In this way they can provide basic eye care to the children who are referred by the district hospitals. Then we take the pressure off the CCBRT hospital where specialists can focus their efforts on more difficult surgical procedures. The majority of children here no longer have to travel miles for basic eye care. Moreover, we are strengthening the link between our NGO and the Morogoro region.
In the Dodoma region, we held discussions with the person in charge of the Benjamin Mkapa Hospital, a reference hospital. There we want to strengthen the pediatric eye care services. This project is in its starting phase. It is fully part of our upcoming five-year plan 2022-2026."
Low hanging fruit
"One of the reasons they hired me at Light for the World Tanzania was to breathe fresh life into the Itinerant Teachers Program. Before I started, the Ministry of Education had little to no knowledge about this program. Throughout my career, I have found that if you want to get something done, you have to be able to convince all the partners around the table. Sharing experience and documenting fieldwork is very important in the process. It is the easiest way to demonstrate how you work and what impact it has on your target audience. It is "low hanging fruit".
I informed the Ministry of Education of our plans based on well-founded documentation. They fully understood that we could take the Itinerant Teachers Program to the next level. They realized that our work was making an important contribution to inclusive education. Based on our experience and documentation, similar inclusive education programs can be implemented relatively quickly and efficiently in other regions in Tanzania. As a result, Light for the World Tanzania is becoming the reference for inclusive education for children with visual impairment in Tanzania.
You too can support our educational projects in Africa. For instance with 20 euros a child with a visual impairment can go to school for a month. Donate now! 
Photo header: Joseph Banzi (middle) and his colleague meeting a student from the inclusive education program.